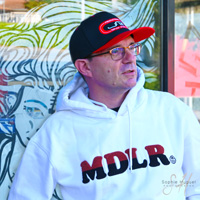 BIOGRAPHY OF JEANS MARC TOLA as told "JMT-PROD"
Born in Marseille in 1969.
Jean Marc Tola was influenced by groups as "IAM", "Massilia Sound System", "Assassin", "NTM", "Wu Tang Clan", "KRS One", "Public Enemy" and so many others a lot.
He discovered the computing in 1981 and began the Computer Aided Music (CAM) in 1987 with his first Amiga and a basic sound card.
By means of Sampling, Time Streching, and Pitching thousands of sounds and after years of compositions, he forms his first group (La cinquième colonne) in Vienne in France
In 1996 They take out their first album « Colonne V « followed one year later of a new album: « Des mots... «. After several years of scenes, repetitions of Studio, the members of the group decide by mutual agreement to leave towards other projects.
That push him to make new meetings and to have several collaborations with Groups of the area (Karukera-Kylla, Ethos, New Jack Swing,…). Then he becomes a manager and a booker of several advanced groups (Hot Line, Fred Alpi, Les Gueules de bois) and in progress (Showmanship, Kaliyuga, Le Petit Orchestre, ...)
In 2003 he takes part of the team which creates in (Vienne Antic Theater) a Festival « Les Authentiks « that knows an direct success and still exists. Then he participates in adventures in several Musical Universes (Hip-hop, Jazz, Funk, Reggae, Electro music, …)
He come back after 15 years full of new compositions enriched by his previous experiences . He composes and arranges himself all the melodies and the rhythmic by bringing his identity appropriate to all his productions.
« I prefer composing from an acapella because I can stick and do the custom compared to what says the rapper and his flow. I spend hours searching for the sound, the instrument that will give the soul music. When I have an idea of melodic line trying to lead at the end and often the result brings me to a production well defined with a specific story. »
His first Opus «H.H.J. JAPAN» with featuring the American rapper «Finesse», taken out in November, 2016 and distributed by SPINNUP. A his Japanese sounds loan that allows him to reconnect with the world of hip-hop.
Then it comes out shortly after the sound «SLAVERY» that some take for a soundtrack to film all this is due to a very particular sound design with a charley replaced by chains, hence the title of «Slavery», an instrumental protest that will soon come to life with the help of a New York rapper.
It is prized by many rappers from various countries, it is how he met among others, Mawkley Moroccan rapper and this meeting was born the title «Al Halaban» which can be translated as 'No. Life Kid', the story of a young boy, broke, living on the streets, who daily get of glue and is finished in alcohol at 90 ° to escape the horror of his condition. Very oriental sound design, supported by a strong text of sense and supported by illustrious dark music and translated perfectly what want to express Mawkley. Without understanding the Moroccan, one senses the dramatic universe is described
You can immerse yourself in the universe of JMT by visiting all platforms download online music: (Spotify, iTunes, Google Play, Amazon, Rhapsody, TIDAL, Deezer).
Currently in preparation for a new production .
From 2017 he plans to take out a production by month and stay constantly in search of new rappers.